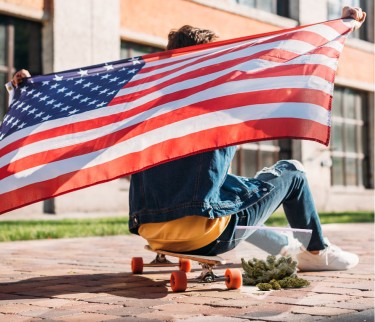 Around 131 million people in the United States take prescription drugs.

That translates to 66% of the population, most of whom belong to the elderly and those who have chronic illnesses. Most adults have one of 5 common chronic conditions that require the use of prescription drugs – these are heart disease, diabetes, cancer, arthritis, and hypertension. Prescription drugs need to be refilled often, so it's no surprise that the global pharmaceutical industry was worth a staggering 1.42 trillion dollars in 2021.
However, the good news is that more people are seeing the benefits of using cannabis instead.
In a new survey by The Harris Poll and Curaleaf, they found that 91% of American adults aged 21 and up who consume marijuana, do so for health and wellness. They also found that 75% of Americans prefer natural solutions instead of pharmaceutical drugs for treating a condition whenever it's possible, and 62% of participants said that they prefer to use cannabis as opposed to pharmaceuticals for treating medical problems.
Furthermore, the survey revealed that 88% of people who use cannabis as an alternative or together with pharmaceutical treatments report an improvement in well-being. Meanwhile, 86% of those who have used cannabis would recommend it to their family or friends for treating medical conditions.
"Educating consumers on how cannabis can be leveraged to support everyday health and wellness needs is critical to destigmatizing the plant and providing consumers with more choices to best fit their personal lifestyle," explains Curaleaf's Clinical Cannabis Pharmacist, Dr. Stacia Woodcock. "There are a wide variety of ways to consume cannabis safely, and many formulations actually have minimal intoxicating effects. Different product options with various ratios of THC and CBD give patients the opportunity to consume cannabis in a way that works with their lifestyle and comfort level," she says.
Why People Should Choose Cannabis Over Prescription Drugs
Heart disease, diabetes, arthritis, hypertension, and cancer – these five common chronic conditions can all be treated with medical marijuana, or with marijuana and conventional drugs. There is a growing body of research supporting the safety and efficacy of marijuana for these conditions, and can even help where Big Pharma fails.
Common pharmaceutical drugs that are used to treat these conditions come with undesirable side effects which can even occur when patients take the incorrect dosage, have an allergic reaction to an ingredient used in the medication, when the drugs kill harmful cells AND healthy cells (commonly occurring in the case of chemotherapy), drug interactions with other medications (even supplements and food), and many more. Common side effects include constipation or diarrhea, insomnia, nausea, dizziness, drowsiness, and headaches. However, more dangerous side effects can also occur: internal bleeding, abnormal heart rhythms, cancer, and suicidal thoughts to name a few.
In a study from 2018, researchers analyzed data in the Releaf App, which the study's authors say is "the largest repository of user-entered information on the consumption and effect of cannabis use in the United States," it says. There were around 100,000 entries on the site. In one study, they found that users who had one or more of 27 various health problems with different symptoms ranging from depression to seizures reported a reduction of symptoms from 2.6 to 4.6 on a scale of 10, following consumption of medical marijuana.
In another study, researchers found that Releaf App data showed that 94% of marijuana users who were diagnosed with numerous health problems reported that marijuana consumption was effective in reducing the intensity of their symptoms. They also said that marijuana use wasn't associated with any serious side effects. "If the results found in our studies can be extrapolated to the general population, cannabis could systematically replace multi-billion dollar medication industries around the world. It is likely already beginning to do so," said the study's co-author, Jacob Vigil.
In a more recent study, researchers in Canada and Italy analyzed the impact of cannabis use among 214 Canadian patients, most of whom were over 50 years old and who were given authorization by the government to use cannabis products. The researchers analyzed the symptoms of patients as well as quality of life before they took cannabis then 6 weeks after. These patients either had chronic pain, rheumatic disorders, anxiety, sleep disorders, or post-traumatic stress.
All patients who had chronic pain, sleep troubles, arthritis, and post-traumatic stress reported improvements in their symptoms after using cannabis for just 6 weeks. They did however, say that cannabis made them sleepy and gave them a dry mouth.
"Aligning with previously published studies, we report that over 60% of the medical cannabis cohort reported improvements in their medical conditions," said the authors. "Overall, we have provided new real-world evidence to support the use of medical cannabis in a number of different medical conditions as a means to immediately provide the scientific evidence healthcare practitioners routinely state they require and to inform the future clinical studies needed to generate efficacy and safety data that will ultimately support the drafting of future regulatory guidelines surrounding medical cannabis use," they concluded.
These are only a few of the many studies available backing up the efficacy of marijuana for a range of health conditions. Patients suffering from nearly any condition can somehow benefit from cannabis use, and there are so many ways you can take it. From smoking to edibles, infused beverages, topicals, patches, and so much more, the possibilities of medicating in a way that benefits you personally is endless. There's no reason to feel like pharmaceutical drugs is the only choice left if you are struggling with a condition, so talk to your doctor today about integrating cannabis into your treatment.
MORE PEOPLE PICKING WEED, READ MORE…