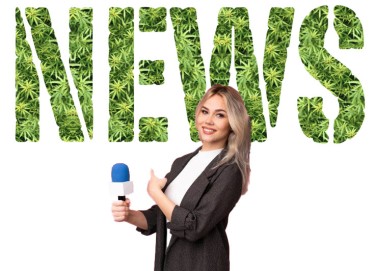 United Arab Emirates Attorney General Reduces Drug Penalties
Being caught with marijuana or other drugs, even alcohol, while in the United Arab Emirates can lead to long jail sentences.
Now, things may change as the Attorney General has just given local courts the ability to treat more illegal crimes with fines instead of jail. Dr. Hamad Saif Al Shamsi, AG, has listed 13 offenses now punishable by fine including crimes for getting caught with products with CBD or cannabis; in this case, these products would already be confiscated instead of people facing the risk of going to jail, reports The National News.
In addition, people who have been caught with drugs face penalties ranging from USD $2,720 to $8,170 for first offenses, which will significantly increase for the second and third offense. However, those caught for drug smuggling can still face 5 years and a death sentence if prosecutors choose to pursue them.
Dr. Al Shamsi explains that it's the prosecutor's goal to "rapidly resolve lawsuits and provide innovative, judicial and legal services, which are in line with global trends, meet the needs of the community," he said in a statement. "The new anti-drug law considers the fact that some users are patients and victims of drug dealers," he said.
Malaysia Discusses Developing Medical Marijuana Industry, Ends Death Sentence
Last April, the Medical Cannabis Caucus (MCC) of Malaysia met with the Prime Minister, Datuk Seri Ismail Sabri Yaakob to confer on policy issues related to medical cannabis, hemp, and ketum in Malaysia. They released a statement acknowledging the Prime Minister's positive feedback regarding the issues in question.
"This is an industry that is being actively developed by many foreign countries. More than 40 countries have already allowed the use of cannabis for medicine. The market value of this industry has reached RM 60 billion. In fact, neighboring countries like Thailand are also studying this industry for their country," said the Malaysian cabinet in a statement, reports The Straits Times.  "The Prime Minister responded positively on issues concerning the industry and said the matter will be discussed in further detail by the Cabinet."
"The MCC believes that Malaysia has great potential and opportunity in this industry for medical purposes and research, and is able to provide great benefits to this country," the statement said. "Legal views were also the main concern during the official meeting just now. The MCC thanks the Prime Minister for attending the meeting."
A recent survey revealed that decriminalization of medical marijuana is favored by a great deal of Malaysians.
The Malaysian Cabinet has also just decided to end the mandatory death penalty, which made the Asian country notorious for having some of the harshest drug laws in the world, reports High Times. The death penalty was removed for 12 crimes including non-violent drug crimes, which was a "welcome step in the right direction," said Amnesty International. It could be that medical marijuana reform has been the primary cause for reform, given the government's keen interest in medical marijuana.
Ukraine-Russia War Prompts Medical Cannabis Legalization
The Ukrainian government is working to legalize medical marijuana.
Part of the decision has been brought about due to the trauma caused by the war started by Russia, reports NPR. Last Tuesday, Minister of Healthcare Viktor Liashko stated on Facebook that the cabinet had just approved a law "on regulating the circulation of cannabis plants for medical, industrial purposes, scientific and scientific-technical activities to create the conditions for expanding the access of patients to the necessary treatment of cancer and post-traumatic stress disorder resulting from the war."

The drafted bill is on its way to the Ukrainian parliament, though a minimum of 226 votes are needed for its approval.
Germany Prepares To Legalize Production And Sale Of Recreational Marijuana
Germany's Health Ministry is now getting ready to legalize recreational cannabis, starting with expert discussions on the topic, reports US News. According to them, over 200 experts from the legal and medical field as well as others will be partaking in the talks with government officials.
In 2021, a coalition deal among the 3 social liberal parties under Chancellor Olaf Scholz pledged to legalize regulated recreational cannabis sales within licensed marijuana shops as part of drug reforms. Five hearings are expected to take place throughout June 2022 to establish what needs to be put in place for recreational cannabis to be legalized while ensuring that the youth are protected. Other agendas include consumer protection, health, supply chains, criminal liability, international experience, licensing, control measures, and economic issues among others.
"Like many others, I have worked for years toward us in Germany finally ending the criminalization of cannabis consumers and beginning a modern and health-oriented cannabis policy," said Burkhard Blienert, designated drug czar, in a statement.
"The hearings are intended to discuss which measures can be used to ensure the best protection for young people, health, and consumers in the event of implementation," he adds. "Because one thing is clear: we want to protect children and young people in particular from possible risks," he said.
Morocco Looks To Regulate Legal Marijuana
Morocco, the number producer of cannabis resin in the world, adopted laws last year that would authorize the legal use of cannabis for medical, industrial, and cosmetic purposes. Part of the plans to do so involved creating a national regulatory agency that met for the first time early in June to discuss the next steps involved.
The National Agency for the Regulation of Cannabis Activities (ANRAC) finalized their 2022 budget and organizational chart during the meeting, reports Africa News. Moving forward, ANRAC will be tasked with overseeing all phases of marijuana production including seed importation to cannabis product marketing. Meanwhile, they will soon be launching the licensing process needed for international as well as local operators in the cannabis industry.
However, the use of recreational cannabis is still illegal in Morocco. This hasn't deterred tourists from attempting to score what is considered among the world's best quality hashish and resin though if caught, they are often let off with a fine.
THE CANNABIS NEWS FROM AROUND THE WORLD, READ MORE..