Portland is Oregon's largest city and the epicenter for the state's cannabis community. While Portland may be known for its activist culture and high rainfall, the city has some of the best cannabis dispensaries in the United States.
In this post, we cover everything you need to know when shopping for cannabis in the Portland area. At the end, we'll show you our favorite dispensaries in the area and why they stand out among other pot shops in Portland.
Table of Contents:
How Many Weed Dispensaries Are in Portland, Oregon?
How to Find Weed Dispensaries in Portland, Oregon
The Highest Customer-Rated Weed Dispensaries in Portland, Oregon
Our Favorite Dispensaries in Portland
How Many Weed Dispensaries Are in Portland, Oregon?
Oregon has the most dispensaries per capita in the US at 16.5 per 100,000 residents. Portland has over 200 active retail cannabis licenses in Multnomah County alone, with dozens more within the DMA.
Choosing a dispensary in Portland can be overwhelming, but due to the ideal growing conditions in Oregon and the well-established adult-use industry, there are many options with incredible products.
How to Find Weed Dispensaries in Portland, Oregon
Portland is divided into the East and West by the Willamette River and North and South by Burnside Street. So, depending on where you live or where you want to enjoy your products, you can find a premium dispensary close by without having to cross the river.
Use our interactive map below to browse weed dispensaries in Portland near you.
Need help finding a weed dispensary in Portland with high-quality products in stock?
That's where we come in.
At Hail Mary Jane, we're self-professed weed connoisseurs. We've been testing, reviewing, and curating weed products for our clients since 2008. When it comes to finding the best weed products available in Portland, Oregon, we can point you in the right direction.
Weed Dispensaries in Southwest Portland
Weed Dispensaries in Northwest Portland
MindRite Recreational Cannabis Dispensary
Weed Dispensaries in Southeast Portland
Weed Dispensaries in Northeast Portland
The Highest Customer-Rated Weed Dispensaries in Portland, Oregon
At Hail Mary Jane, we value the opinion of local customers tremendously. Therefore, we make sure only to highlight businesses with exceptional reputations.
We've picked two of the highest-rated weed dispensaries in Portland and picked some of the most insightful reviews. Check out what real Yelp users say about pot shops in the Portland area.
Serra Dispensary – Chinatown 4 Stars on Yelp
"What a gorgeous storefront! I love the industrial minimal vibe and their indoor plants are *chef's kiss*! Jen helped my mom and I – she was knowledgeable, patient and friendly." – Yelp User
————————————
"FREAKING LOVE Serra. Such great service. Great product."
"I want to go here every day! Realistically I can't but I would love that if it was a reality." – Yelp User
————————————
"I'm guessing the name "Bougie Budz" was already taken?"
"Lordy, lordy, how the cannabis industry has grown up! Serra Dispensary is a fancypants place to get fancypants weed and accessories. Prices are a LITTLE higher as a result of of the environment, but it really is a lovely shopping experience."
"It seems that they have their own farms and are thus developing their own strains? That's dope. Pun entirely intended."
"They have a loyalty program that seems to also work with their sister company Electric Lettuce. Plus if you're signed up you can use a card instead of cash. What a world!"
"Finally, who doesn't want a shirt that says Quality Drugs?" – Yelp User
Jayne 4.5 Stars on Yelp
"I cannot stress enough what a positive experience this store is. The customer service is impeccable. My husband and I are visiting Portland, as we are both avid smokers and I work in the industry I wanted to see what Oregon had to offer. I am blown away by the knowledge of the budtenders who didn't rush us and also were very knowledgeable. The products put California's to shame. The Bermuda sour is phenomenal, definitely recommend. I rarely write reviews but Jayne deserved some love." – Yelp User
————————————
"So, I'm not much of a Cannabis person – but had someone recommend I try some CBD topicals for muscle issues I'm having. Found Jayne through some friends and all in all – I'm now way more educated, way more confident in what I'm doing, and so far, have had a great response.
I walked in probably looking like a deer in the headlights – the girls working there couldn't have cared less – too wrapped up in their own worlds to be bothered by a customer. I almost ran away. Luckily the super tall dude (sorry – can't remember his name) took me under his wing and walked me through what was available and things to try.
Seriously – if you're new to this world, or want to learn more – go find the super tall dude at Jayne!" – Yelp User
 Our Top Dispensaries in Portland
Based on our experience enjoying an assortment of Portland's many weed dispensaries, we've picked six that stood out to us.
We judge our dispensaries on several factors:
Product selection
Customer service
Quality
Atmosphere
Price
Serra Dispensary
Serra Dispensary is a tastefully decorated dispensary in a spacious, bright storefront in the heart of downtown Portland. The space is amazing, but our favorite part about Serra is the knowledgeable staff and their 'Feeling Card' system. Choose between relaxed, focused, creative, happy, energetic, or relief, and the team will guide you to the products that will deliver the best experience possible.
Don't forget to take a pic under the famous Quality Drugs leaf wall before you leave!
Five Zero Trees
Five Zero Trees (a play-on-words of Portland's 503 area code) has two locations in the area, one on the Eastside and one on the Westside. While they are both a bit out of the city, they are worth the trip.
Both locations carry flower from LOWD, an award-winning cannabis production company located in Portland. Try the 503 WIFI or Platinum Garlic Cookies for an unforgettable high that lives up to the brand's name.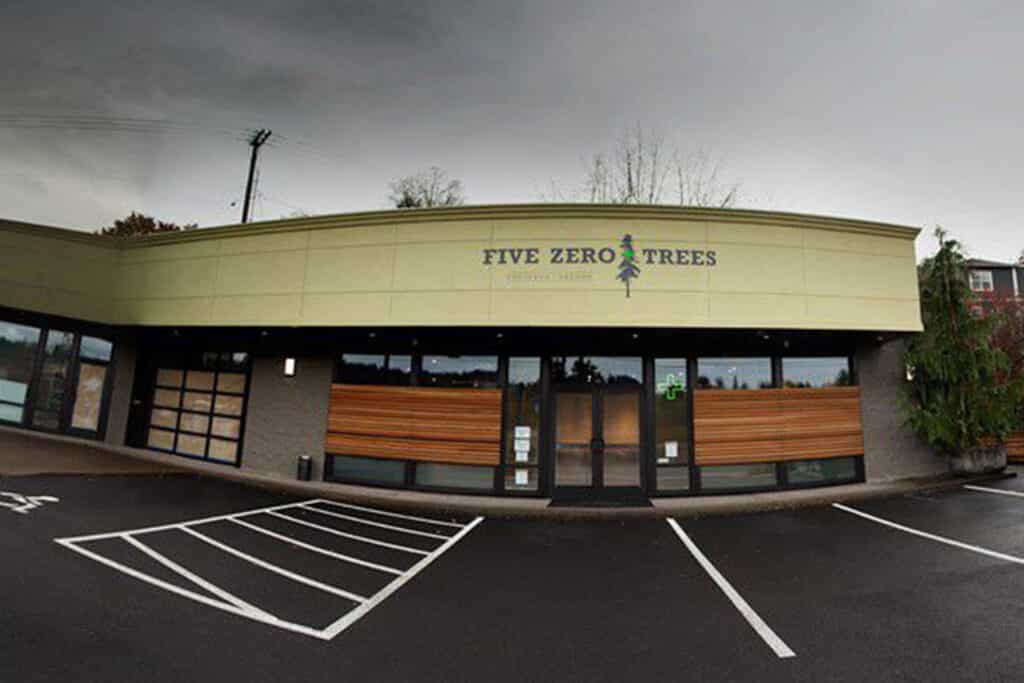 Bridge City Collective
Bridge City Collective is a favorite dispensary for Portlanders with two locations in the inner city. The atmosphere is fresh, clean, and a friendly budtender will greet you upon arrival.
Check out Bridge City Collective's extensive selection of concentrates, and don't forget to ask about the daily specials.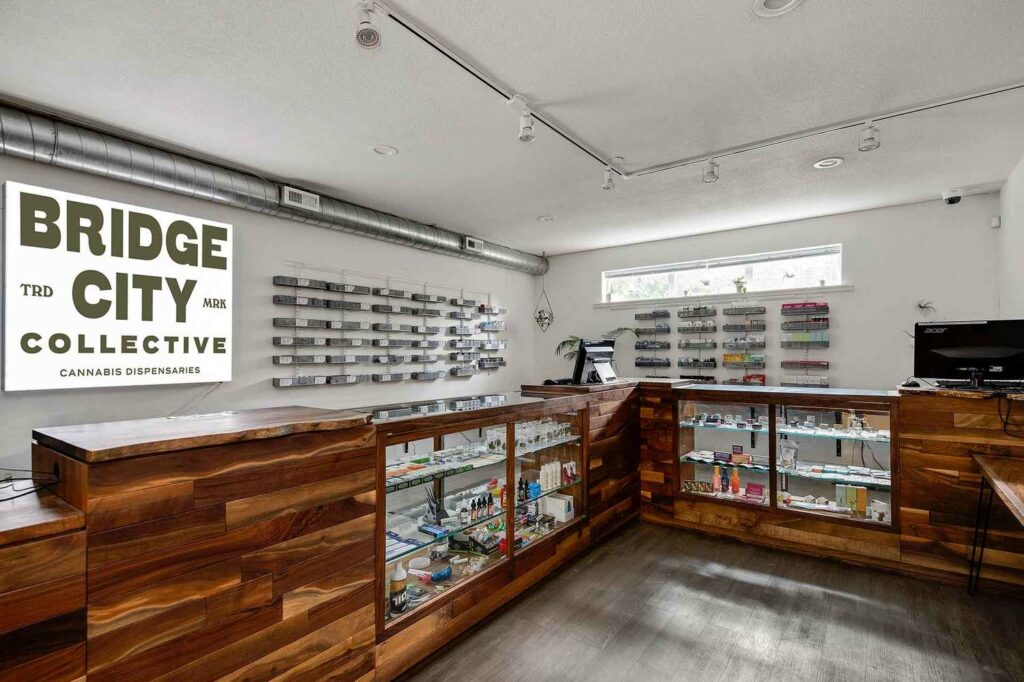 TJ's on Powell
TJ's is a collective of boutique cannabis dispensaries around Oregon. The location in SE Portland off Powell BLVD is in a renovated house, the perfect representation of dispensaries on the Eastside. TJ's on Powell features a massive menu of flower, edibles, and concentrates with deals every day of the week. Stop by on Thursdays for 30% off top shelf flower.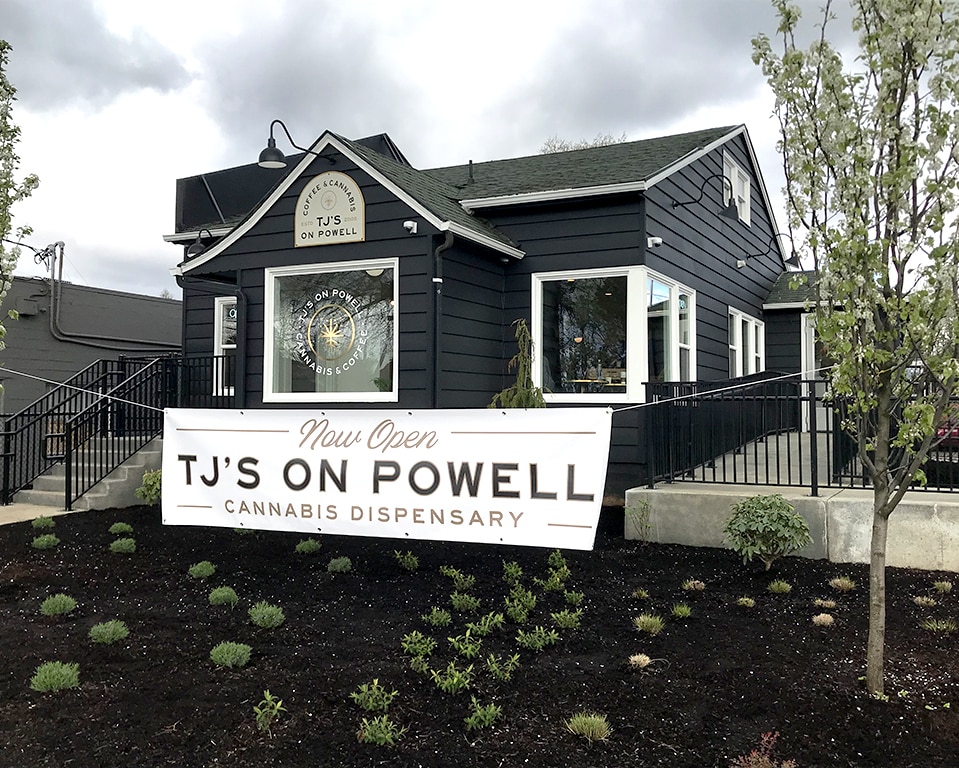 Chalice Brands – Downtown
Chalice Farms is a cannabis collective with products and retail locations throughout Oregon. The dispensaries are well known throughout the area for delivering high-quality products at reasonable prices.
The downtown location is off SW Naito Parkway, just across the street from Waterfront Park, a perfect place for a leisurely walk.
Chalice's top-shelf flower is unbelievable, and we would put it up against any selection on the West Coast.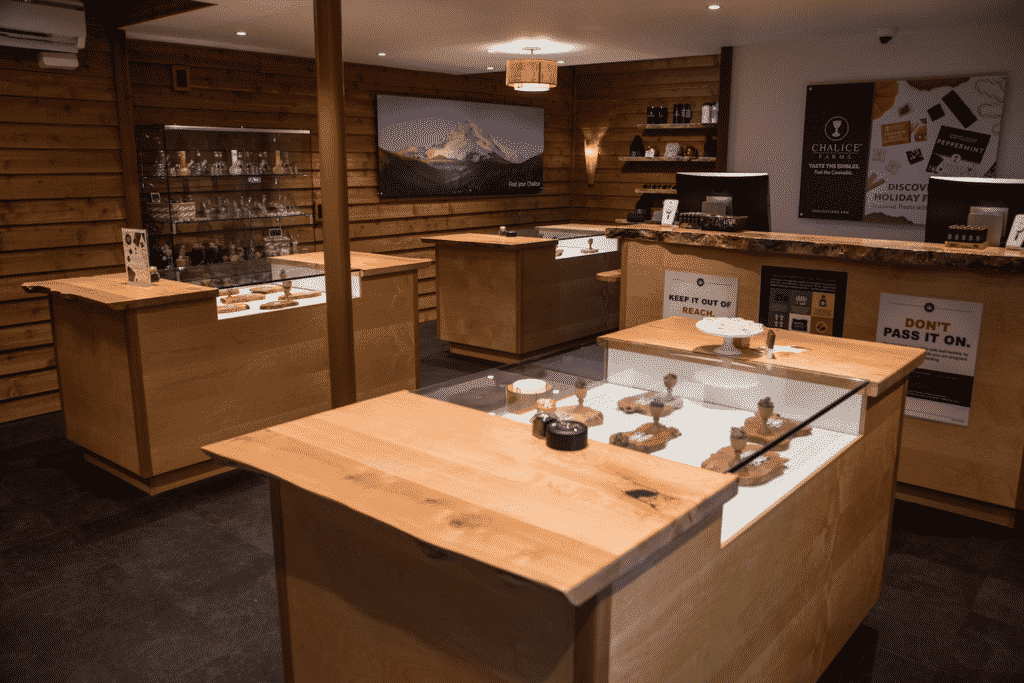 Jayne
We've already mentioned our love for Jayne by featuring some of the reviews from Yelp.
The dispensary is responsible for creating a community in Northeast Portland. Their products serve as the foundation, but relationships with customers and users of the location have solidified Jayne as one of the most important dispensaries in the area. When you walk into the clean, welcoming cannabis store, you will notice a plethora of premium products and local artwork. The space has even been used to host yoga classes.
Jayne even offers a menu in braille for cannabis lovers with impaired vision.
Cannabis lovers end up at Jayne for their great selection and witty name but become loyal customers due to the atmosphere and charming staff.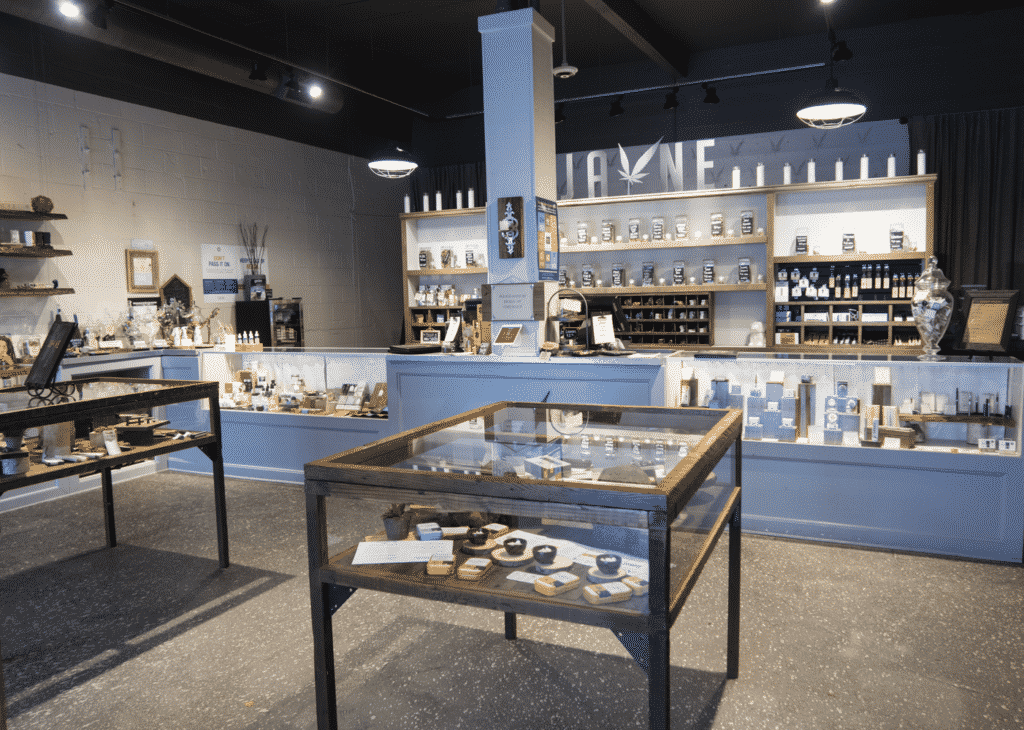 Discover the Best Weed Products in Portland, Oregon with Hail Mary Jane
Portland, Oregon, is a mecca for cannabis. Since the 1970s, counterculture advocates have flocked to Portland for the city's close connection with nature, open-mindedness, and tolerant stance on recreational drugs.
At Hail Mary Jane, we have expertise that you can rely on when finding and experiencing high-quality weed products.
We'll keep you up-to-date on the hottest weed products you'll want to keep an eye out for when visiting weed dispensaries in Portland and Oregon.